B2 + C1 online course package

with teacher guidance


(includes B2.1, B2.2, C1.1 and C1.2)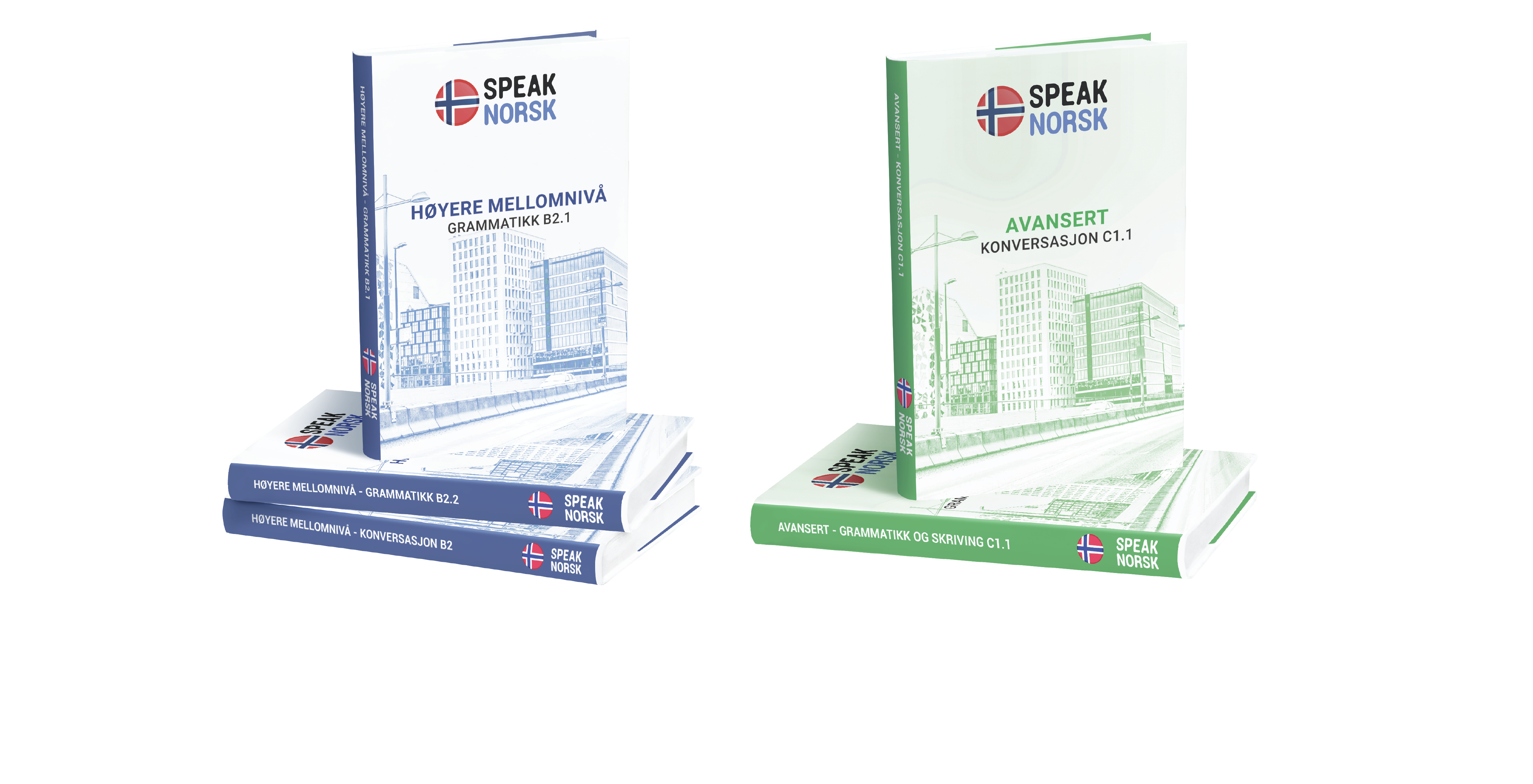 All books are offered free of charge! (total of 6 downloadable books)
You will get:
B2 books (B2.1 grammar and conversation, B2.2 grammar and conversation)
C1 books (C1.1 writing and conversation, C1.2 writing and conversation)

From intermediate to fluent with our all-inclusive B2+C1 course package!



Who is this course recommended for?

This course is suitable for YOU who have previously completed B1 level and/or everyone who wants to reach fluency in Norwegian, while already mastering its basics.

What is included in the B2+C1 online curse package?
You will get access to:
B2.1, B2.2, C1.1 and C1.2 

Pre-recorded grammar and writing lessons (full-length teachers´ grammar explanation videos)

Grammar exercises and quizzes

Pre-recorded conversation lessons (texts, vocabulary and listening exercises)
Vocabulary lists

Repetition exercises and grammar overview videos to review the passed material and topics

Midterm and final term evaluations

Continuous support and guidance from Speak Norsk administration and teachers on your learning journey!

Extra bonus of previously recorded live classes: grammar lessons and exercise-solving videos

Course completion certificate


You will learn how to: 
master foundational grammar (both in speech and in writing) and be able to employ a variety of complex sentence structures

use complex prepositions in writing texts

express yourself in all social contexts - both formal and informal

structure and write argumentative texts

write formal and informal letters and emails

write a CV and job application that will stand out

differentiate Norwegian dialects

use interjections and sentence binders



Course outcomes
Upon completing B2+C1 online course package, you will master Norwegian grammar and conversation at an academic level, expressing yourself freely with fluency and confidence in all settings, both orally and in writing. 


Teacher guidance
Teachers will answer your questions in the comments section of each video. You can also send personalised emails to teachers to check your texts and other assignments.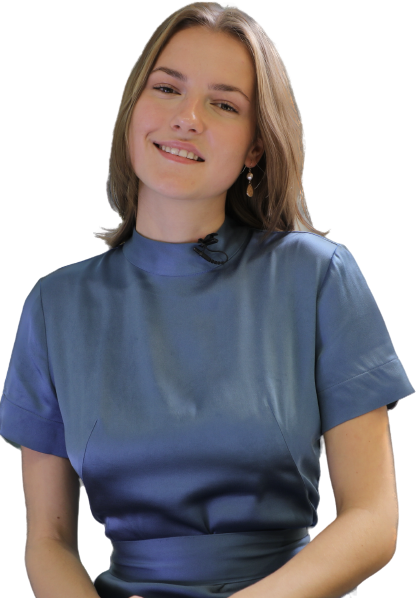 Your personal teacher
Hi, my name is Maria and I will be guiding you throughout the course.
Education and background:
Most-popular online teacher with over 4 years of experience teaching Norwegian as a second language.
Send me your assignments and I will send you personalised feedback and comments on how you can improve!

Lesson preview with teacher Maria
(B2 grammatikk: Futurum)

Lesson preview with teacher Jon
(C1 skriving: Faste preposisjonsuttrykk)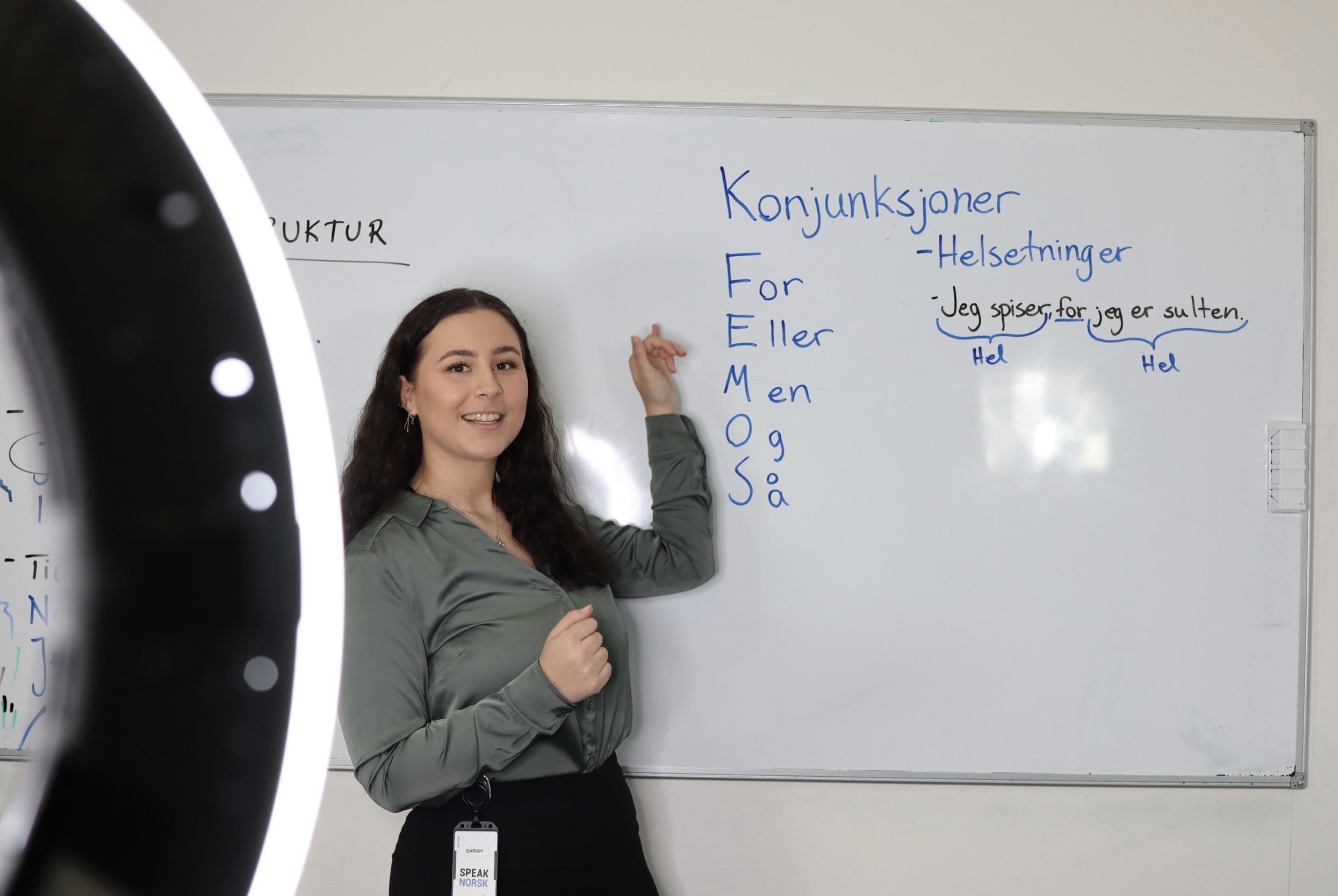 LIVE and interactive lessons in addition to your course!
Exclusive to our online students
Live lessons in our private Speak Norsk community when purchasing an online course.

Be a part of Speak Norsk family and interact with teachers daily!