Complete online Norskprøve A2-B1
(Norskprøve A2-B1 preparation course with A0, A1 and A2 levels package)
with teacher guidance
100% passing guarantee
Your personal teacher
Hi, I am Maria, your teacher at Speak Norsk.
Education and background: Most-popular online teacher with over 4 years of experience teaching Norwegian as a second language.
Together with the other teachers, I will be following up with you during the course. You can send us your texts, audios and other assignments and we will send you personalised feedback and comments on how you can improve!

Course description
Ever wondered what it takes to finally start learning Norwegian? Speak Norsk offers you the full package to get you started!
With our complete online Norskprøve A2-B1: preparation course with A0-A2 levels package, speaking and expressing yourself in Norwegian will become easier day by day. The course consists of a thorough and practical introduction to the language, giving you the chance to learn and practice everything from pronunciation, basic vocabulary to complex grammar structures in written texts, as well as to use the Norwegian language in everyday situations.
The complete online Norskprøve A2-B1: preparation course with A0-A2 levels package is for YOU who would like to take the Norwegian test at A2/B1 level and who wish to learn the basics of Norwegian for social and professional purposes. 
What is included in the course?
A0 level

- basic introductory level to Norwegian language (pre-recorded lessons)

A1 level

(A1.1 and A1.2) - grammar, conversation, writing, and pronunciation lessons and exercises

(pre-recorded lessons)

A2 level

(A2.1 and A2.2) - grammar, conversation, writing, and pronunciation lessons and exercises

(pre-recorded lessons)

Practical and useful information about the Norskprøve test (general info, tips, and tricks, examples)

Over 200 exercises for each level and quizzes for all 4 parts in the test: reading, listening, writing, oral presentation

Lots of examples for each type of exercise you will meet in the test. Get inspired and prepare well!

Opportunity to

develop your conversation skills

Opportunity to develop and train your skills to solve the exam tasks effectively and in good time

Focus on both written and oral part with the help of grammar review, correction of texts, vocabulary lists, and conversation structures

Daily feedback from our teacher Maria through the online platform. Get answers to all your questions through the comment section - send in your text, audio, and our teachers will correct it and send you their feedback.
Course completion certificate
What you will learn in the course levels?
You will be able to understand simple, standard speech that is carefully articulated and recognize familiar words and basic phrases. All through the course, you will learn how to communicate in simple to more advanced routine tasks requiring a simple and direct exchange of information on familiar topics and activities. In terms of writing, the completion of the A0 + A1 + A2 course package enables you with the skills to write short texts, using simple connectors, in the present, future, or past time, describing plans, your likes, or dislikes. 
What you will learn through our Norskprøve course?
How to talk continuously and fluently in Norwegian 

How to pronounce the language sounds correctly

Develop and widen your vocabulary with more synonyms, idioms, etc.

Master beginner and intermediate grammar in Norwegian

Learn the main and most applied rules for punctuation

Perfect your writing skills - learn how to create coherent, structured, and easy-to-follow texts.


Course books and materials
All e-books and materials needed for the course are offered free of charge and are available on the online platform. 


Duration
It takes approximately between 3 to 8 months to complete the package, depending on your daily availability and progress.

Lesson preview with teacher Maria
(A2 grammar lesson)
Lesson preview with teachers Maria and Kristine
(Answer example for oral part of the exam)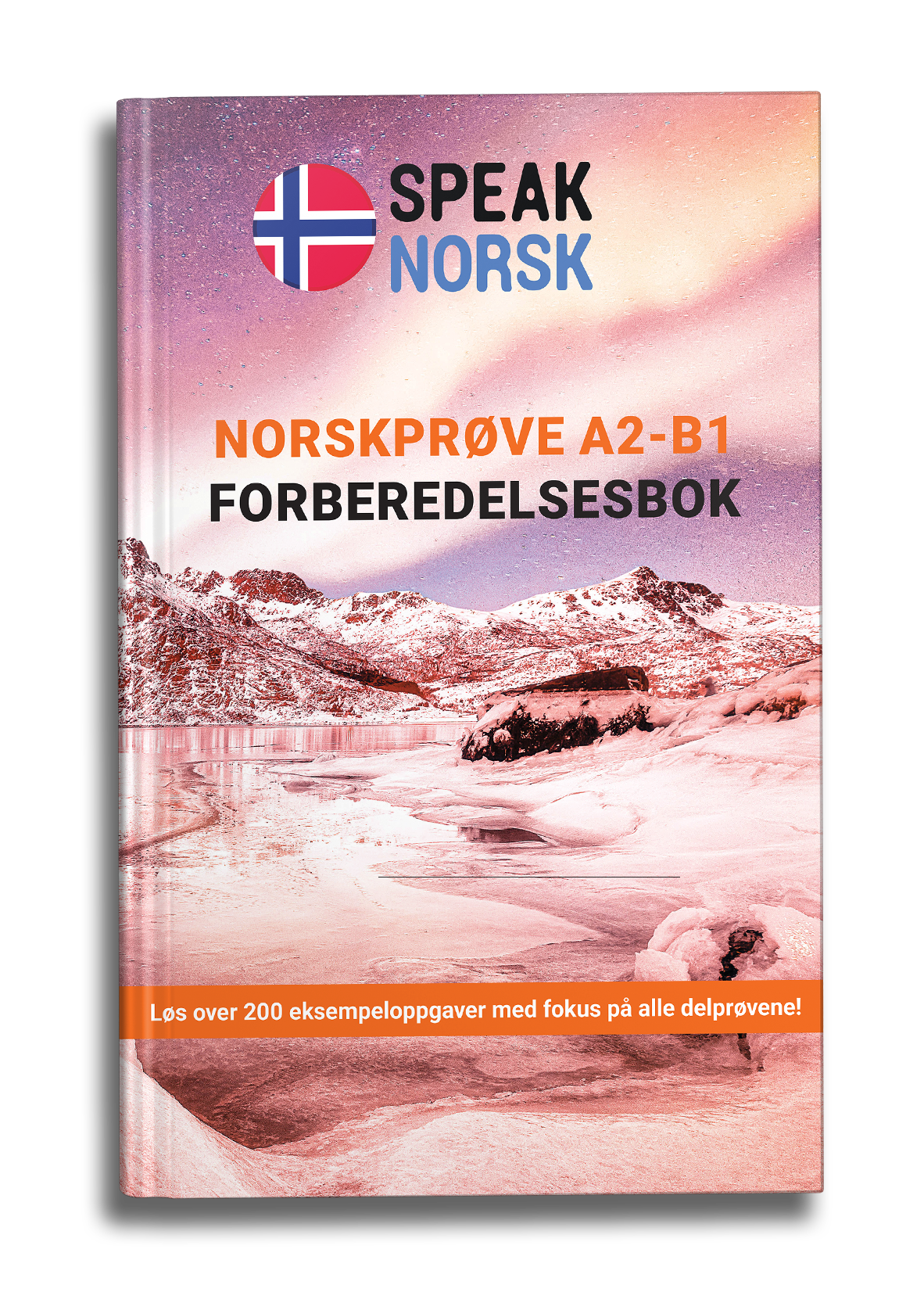 Total of 7 e-books, all offered free of charge.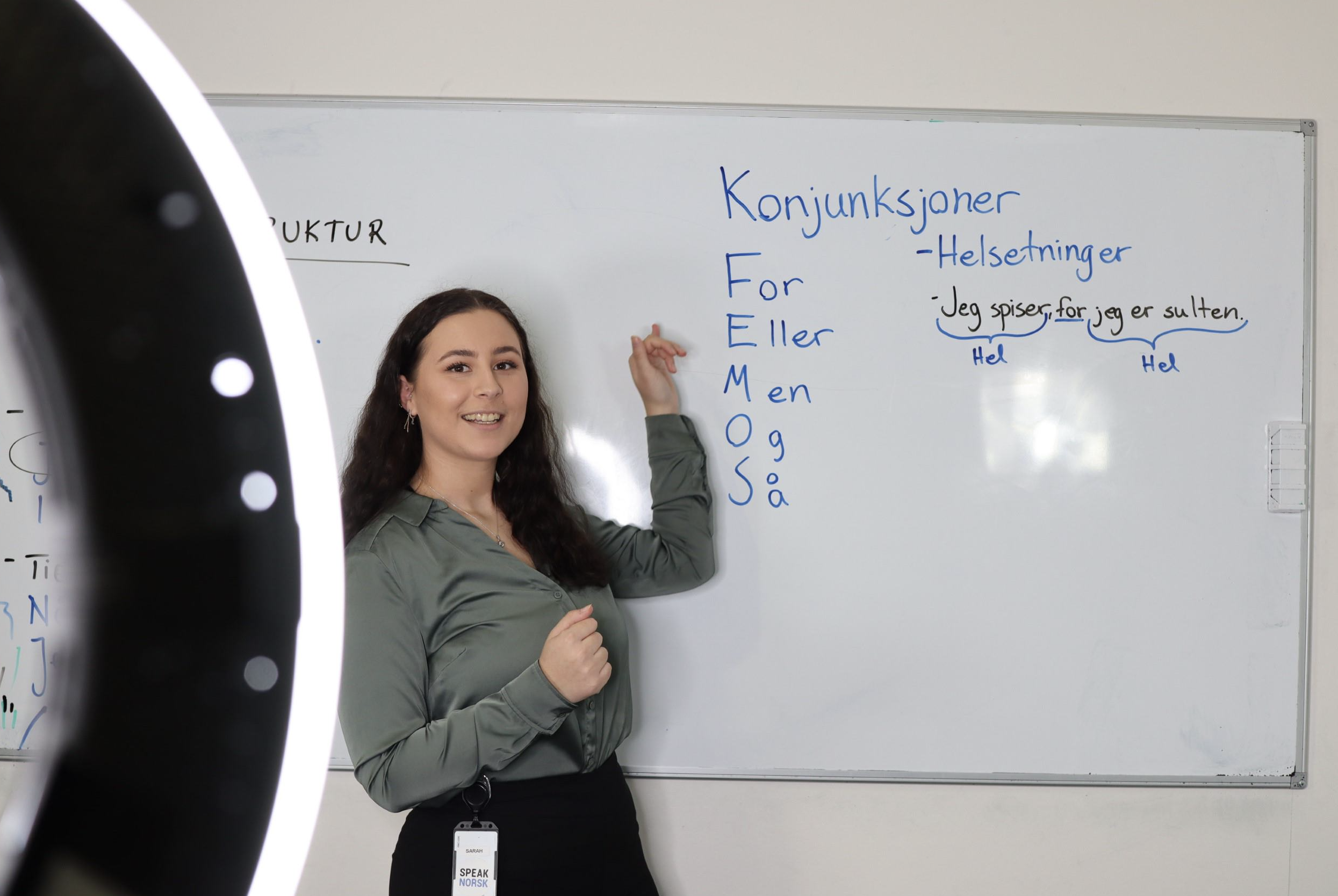 LIVE and interactive lessons in addition to your course!
Exclusive to our online students - live lessons in our private Speak Norsk community when purchasing an online course.
Be a part of Speak Norsk family and interact with teachers daily!
100 % passing guarantee
Check our students results!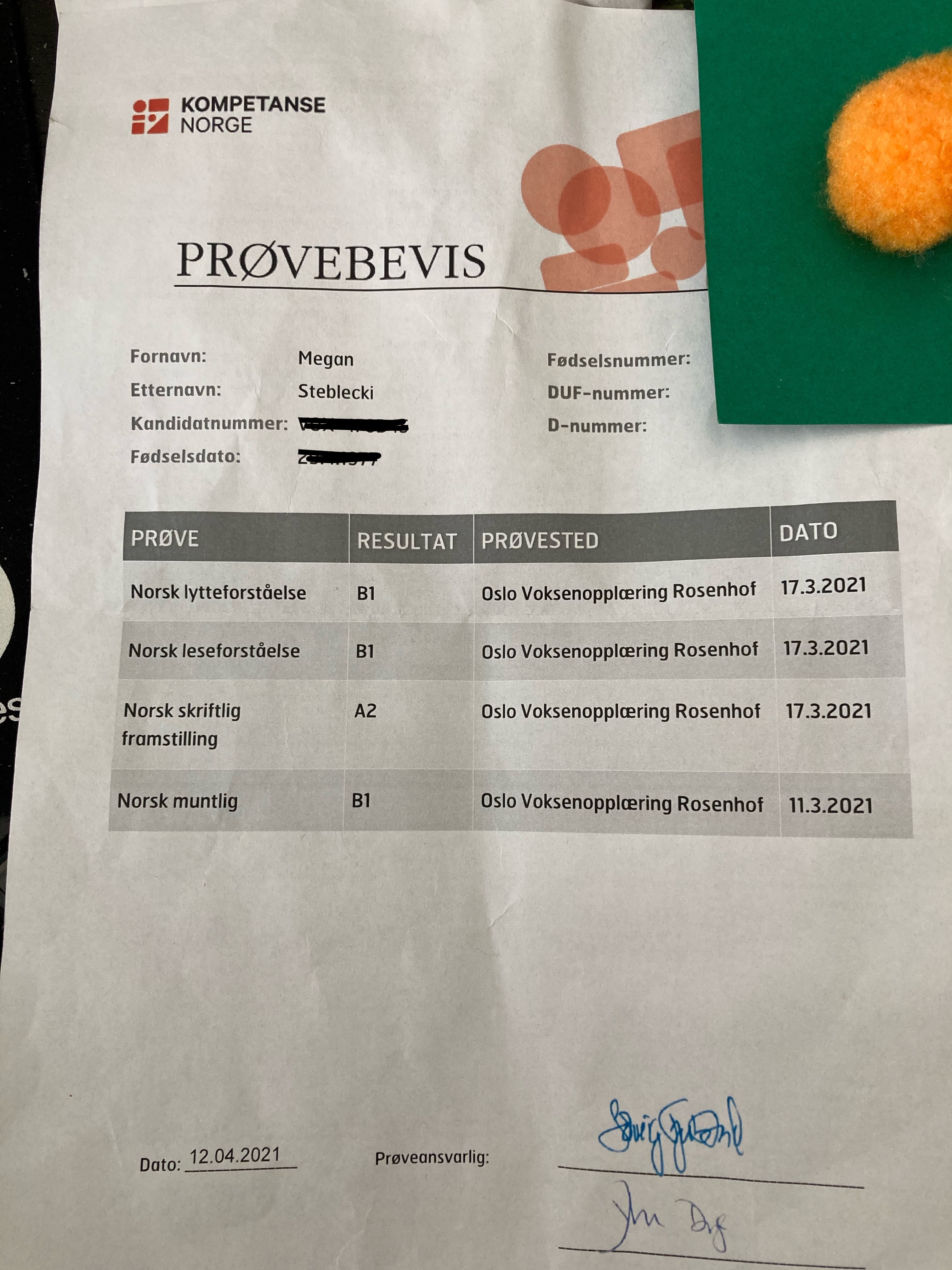 Megan Steblecki
Completed A1-B2 levels and the Norskprøve A2-B1 preparation course
"I would like to express my gratitude to Antje, Jon, Barbara, Johannes and Julian for their expertise in helping me learn the Norwegian language. Jeg har bestått!"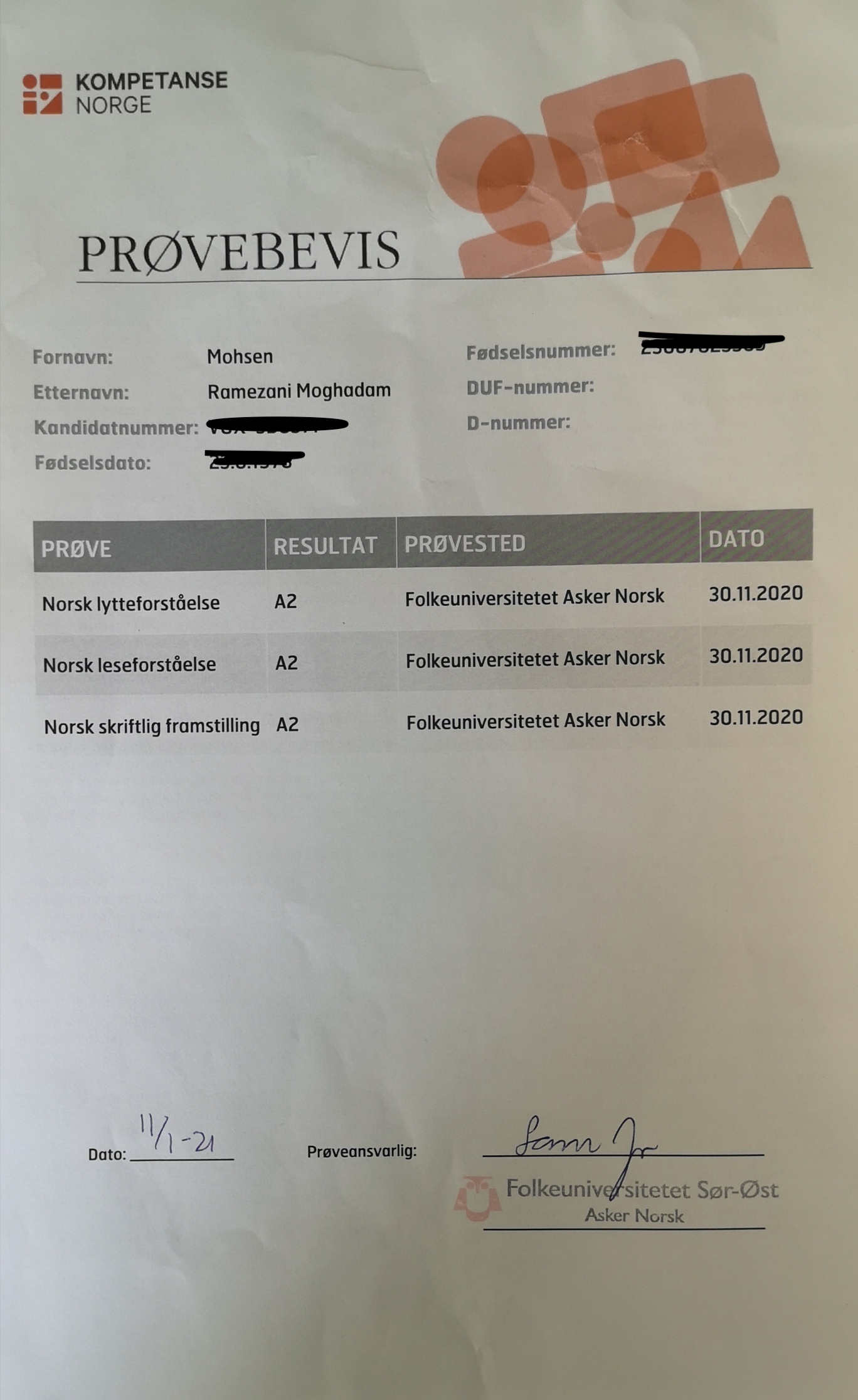 Mohsen Ramezani Moghadam


Completed A1-A2 levels and Norskprøve A2-B1 preparation course
"I wanted to thank you guys for helping me to get where I am now in Norsk. Maybe for native speakers having B1 or A2 is not that important but I feel proud."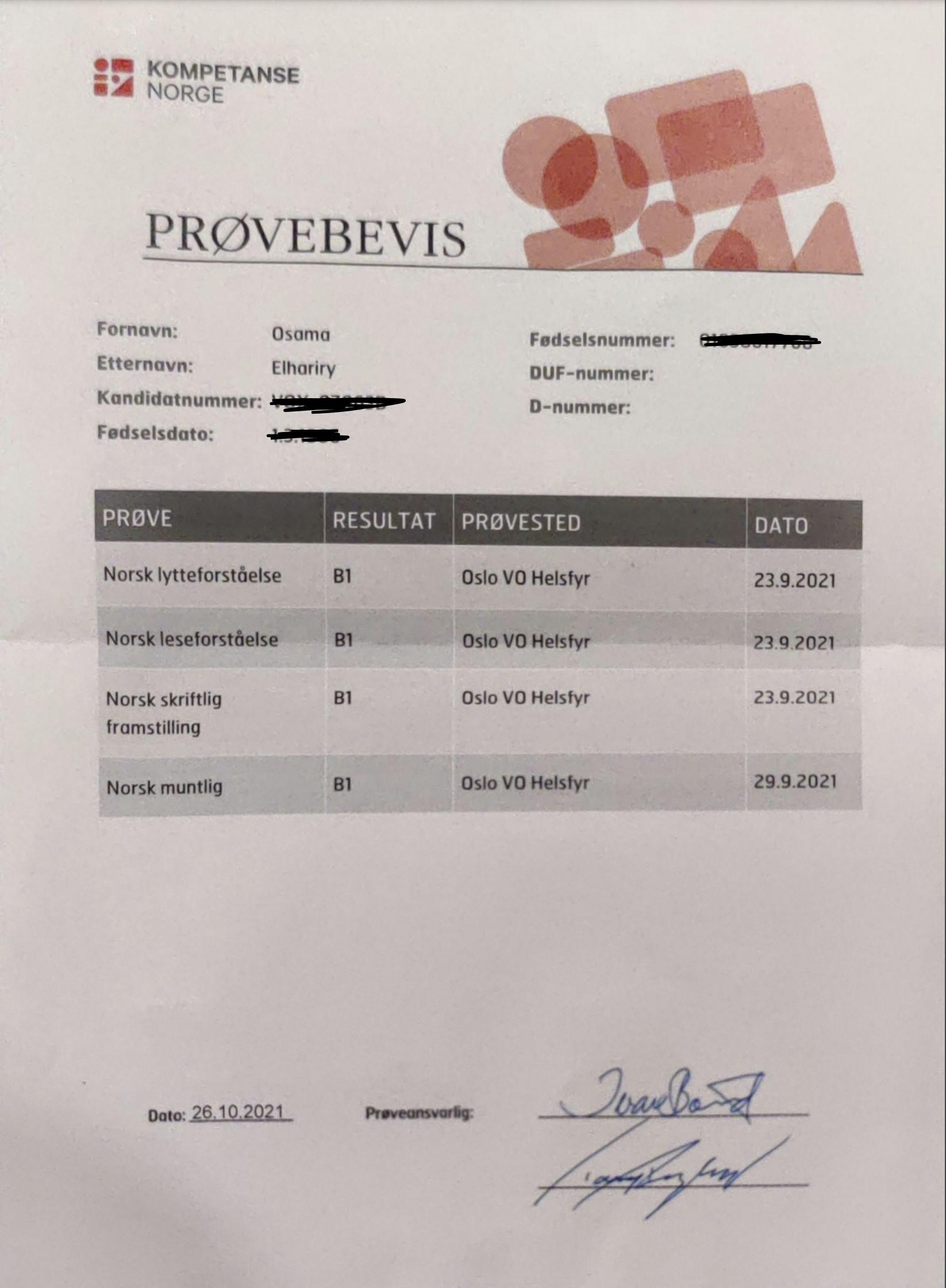 Osama Fouad


Completed A1-B2 levels and the Norskprøve A2-B1 course
"Jeg har allerede bestått B1 norskprøve eksamen forrige måned og skal prøve B2 neste måned. Jeg håper jeg kan gjøre det! Tusen takk!"