Unlimited Norwegian Courses
All levels from A0 to C1
(includes Norskprøve and Bergenstest preparation and all other upcoming courses)
with teacher guidance

This package includes:
Intensive Norwegian level courses from A0 to C1

Norskprøve A2-B1 preparation course

Norskprøve B1-B2 preparation course

Bergenstest preparation course

Online social studies course

Online B2-C1 writing course

The native master course

Norwegian Business Course

Total of 19 downloadable e-books

Grammar practice: Exercises for all levels (A1-C1)
... and all other upcoming courses by Speak Norsk! 
Course books and materials
All e-books and materials needed for the course are offered free of charge and are available on the online platform.  Total of 19 e-books!




Experience Speak Norsk's
intensive and unique online courses and learn Norwegian like a pro. We are here to support your educational journey every step of the way.


From learning how to pronounce the alphabet to passing the language exam for Norwegian citizenship, our unlimited Norwegian courses package will be your companion along the way - from anywhere in the world and at your own availability.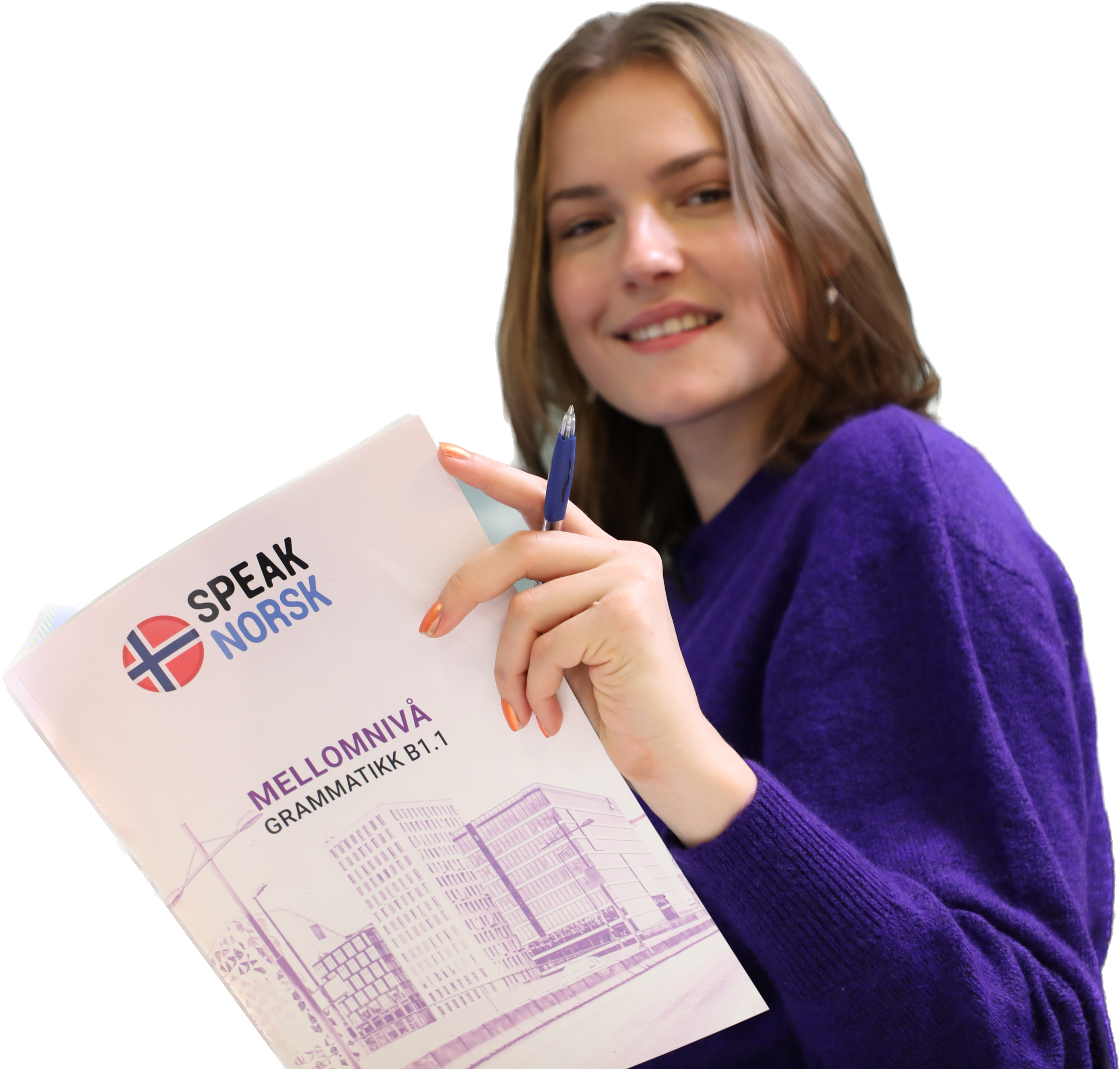 Your personal teacher
Hi, my name is Maria and I will be guiding you throughout the course.
Education and background:
Most-popular online teacher with over 4 years of experience teaching Norwegian as a second language.
Send me your assignments and I will send you personalised feedback and comments on how you can improve!

About the course: Introductory video with teacher Kristine
What's included?
A0, A1.1, A1.2, A2.1, A2.2, B1.1, B1.2, B2.1 and B2.2, C1.1 and C1.2 (full levels package)
Norskprøve A2-B1 and B1-B2 preparation courses (for permanent residence)
Bergenstest preparation course
Online social studies course
Online B2-C1 writing course

The native master course

Pre-recorded grammar lessons 

(teachers´ grammar explanation videos)

Grammar exercises and quizzes

Pre-recorded pronunciation lessons (teachers´ explanation videos)

Conversation lessons (texts, vocabulary, and listening exercises)

Correction of texts, pronunciation, and other exercises directly by the teachers!

Motivational videos from our most-popular teachers

Mid-term and final term evaluations for each level 

Extra bonus of previously recorded live classes: grammar lessons and exercise-solving videos

Continuous support and guidance from Speak Norsk administration and teachers on your learning journey!

Course completion certificate


Who is this course for?
The Unlimited Norwegian package is designed for YOU, a beginner student (with little or no previous experience in Norwegian) who wants an all-in-all course package to master the Norwegian language in all its aspects and become a part of the Norwegian society through permanent residency and/or citizenship. The package includes all courses currently available at Speak Norsk.
Duration
It takes approximately 12-18 months to complete the Unlimited Norwegian course package, depending on your daily schedule and progress. Practice daily and you will reach your goal within an established timeframe!

Teacher guidance
Teachers will answer your questions in the comments section of each video. You can also send personalised emails to teachers to check your texts and other assignments.

Lesson preview with teacher Maria
(A1 nivå grammatikk)
Lesson preview with teacher Johannes
(A1 nivå uttale)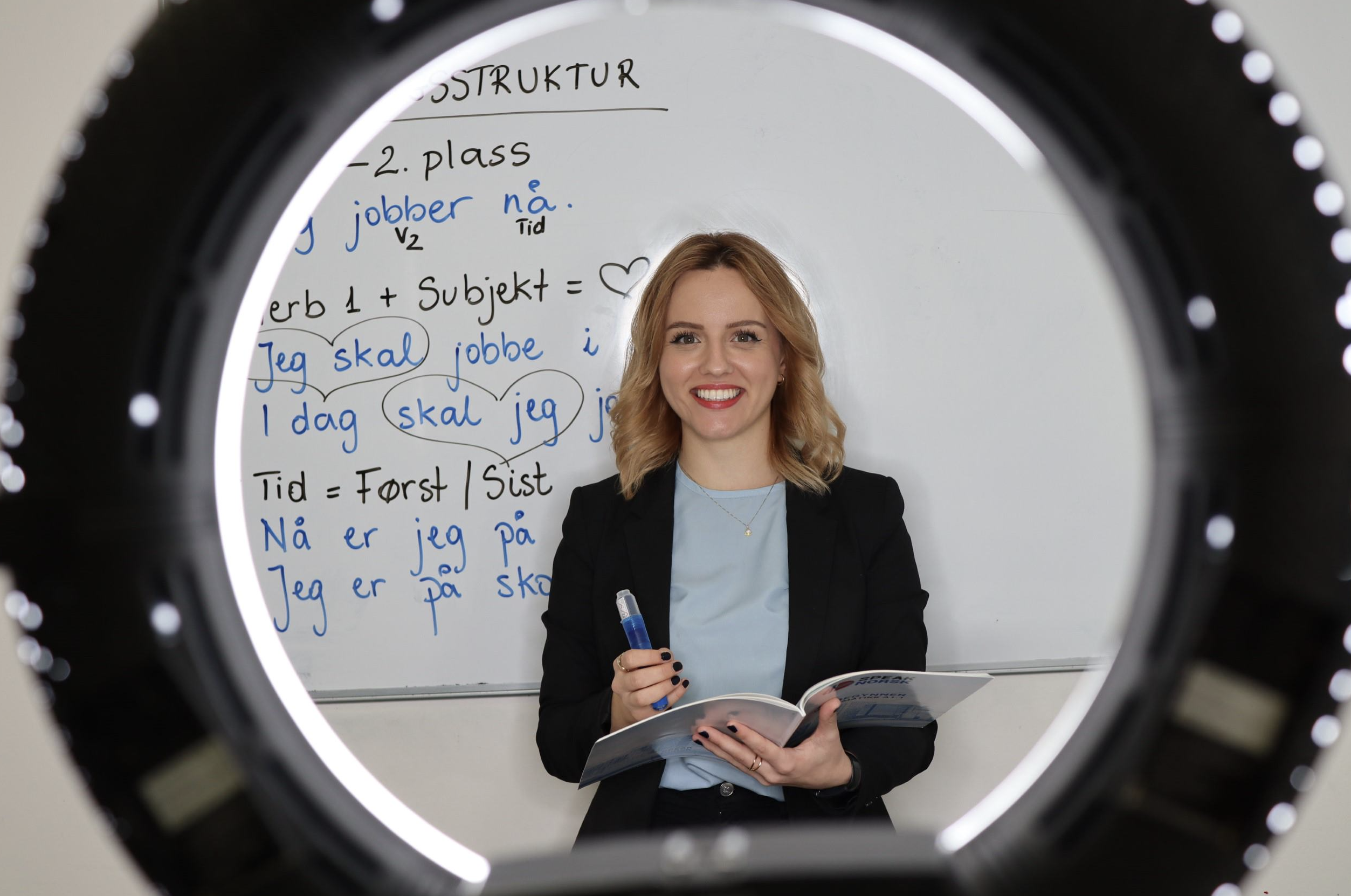 LIVE and interactive lessons in addition to your course!
Exclusive to our online students
Live lessons in our private Speak Norsk community when purchasing an online course.

Be a part of Speak Norsk family and interact with teachers daily!